Buffalo's BIG German Band!
The German American Musicians may be known as Buffalo's BIG German Band, but we are so much more than just a band!
We are a 501(c)(3) not-for-profit cultural organization dedicated to the cultivation and performance of the traditional music and culture of German-speaking lands.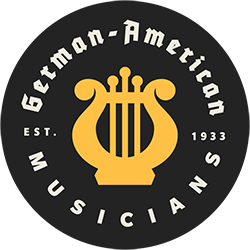 Our standard four-hour show features four energetic sets of traditional German waltzes, polkas, marches, folk music, Rheinlanders, modern pop, and more. Our dance squad gets any crowd onto the dance floor and leads them through a variety of fun, simple dances.
We color our performances with historical backstories, geography and light comedy. We even cart in our Schlagzeug (complete with anvil) and other fun props!
A Very Special "Thank You" to Arts Services Initiative of WNY
The German-American Musicians Association is beyond grateful to the Arts Services Initiative of WNY for their quick action to establish a COVID-19 Emergency Relief Fund for local artists, and for the financial assistance we humbly received. As a 35-member, all-volunteer non-profit with a very seasonal performance schedule, COVID-19 restrictions hit just as we were ramping up for our 2020 season. With only two group rehearsals under our belt, our practice space was abruptly shuttered in mid-March and our summer bookings were cancelled shortly thereafter. Since our traditional performances are dependent on large group gatherings, we can't anticipate when we'll see the stage again. The funds from ASI will help offset rent, insurance and other ongoing expenses while we figure out new ways to earn income and engage with our fans and followers. Thank you not only to ASI for their hard work and charity in supporting local WNY artists, but to the many individuals, corporations and foundations who so selflessly funded this relief effort. Thank you for continuing to be a valuable resource to local artists and for helping to preserve the diverse art and culture throughout WNY.
---