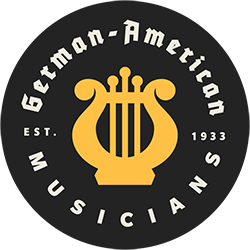 Buffalo's BIG German Band!
The German American Musicians may be known as Buffalo's BIG German Band, but we are so much more than just a band!
We are a 501(c)(3) not-for-profit cultural organization dedicated to the cultivation and performance of the traditional music and culture of German-speaking lands.
Our standard four-hour show features four energetic sets of traditional German waltzes, polkas, marches, folk music, Rheinlanders, modern pop, and more. Our dance squad gets any crowd onto the dance floor and leads them through a variety of fun, simple dances.
We color our performances with historical backstories, geography and light comedy. We even cart in our Schlagzeug (complete with anvil) and other fun props!
---
Though we are a non-profit organization comprised entirely of volunteers, we do have some big expenses to cover (rent, equipment, clothing, transportation, insurance, music/royalties, etc.). If you love what we do, we would appreciate if you selected us as your charity of choice when shopping on smile.amazon.com. It doesn't cost you any more, but Amazon donates 0.5% of your purchase to the German-American Musicians Association! Just choose us in your Amazon shopping app, or remember to start your shopping at smile.amazon.com if using a web browser. Danke!